Search By Topic
Found 22 Unique Results
Page 1 of 3
DOI: https://doi.org/10.21980/J8135T
ABSTRACT: Audience: The target audience of this simulation is emergency medicine residents and medical students. The simulation is based on a real case of a 13-year-old female who presented with seizures and hypoxia and was ultimately diagnosed with pulmonary embolism. The case highlights diagnosis and management of an adolescent with new onset seizures, deterioration in status, and treatment options in
DOI: https://doi.org/10.21980/J89H1X
His lower extremity magnetic resonance imaging (MRI) findings showed abnormal signals in his knees, which were most consistent with scurvy. The white arrows on the T1-weight sequence indicate hypointensity (decreased signal or darker region) of the knees. The white arrows in the T2-weighted short-tau inversion recovery (STIR) sequence indicate hyperintensity (increased signal or brighter region) in an MRI of the knees.
DOI: https://doi.org/10.21980/J8306S
The objective of this educational project was to design, implement, and evaluate a curriculum relevant to an EMS system based in a LMIC, so that it could be a basis for curricula for use in similar contexts. The educational goal is to improve prehospital providers performance in common pediatric resuscitations. 
DOI: https://doi.org/10.21980/J8M06F
Facial ultrasound revealed local inflammatory changes such as increased echogenicity and heterogeneity in the soft tissues of the right cheek, suggestive of soft tissue edema. There was evidence of a prominent right parotid gland with increased heterogeneity suggestive of a traumatic injury. Additionally, facial ultrasound demonstrated a 6mm ill-defined anechoic collection within the right cheek without increased doppler flow (green arrow), thought to represent a focal area of edema instead of an abscess.
DOI: https://doi.org/10.21980/J8ZD1S
Chest X-ray demonstrated significant right-sided pneumothorax (with red outline showing border of collapsed right lung) with cardio mediastinal shift to the left (shown by blue arrows) indicative of a tension pneumothorax
DOI: https://doi.org/10.21980/J8P363
By the end of this TBL session, learners should be able to: 1) Identify red flag symptoms that should prompt referral for urgent intervention by GI or surgical specialists; 2) recognize how chronicity of the vomiting can alter the differential diagnosis; 3) describe the varying pathways that can cause nausea and vomiting; 4) determine the necessity of imaging tests to confirm and possibly treat various causes of vomiting; 5) interpret imaging studies associated with specific causes of vomiting.
DOI: https://doi.org/10.21980/J8MD22
 By the end of this TBL session, learners should be able to: 1) Define features of simple versus complex febrile seizure, 2) Discuss which patients with seizure may require further diagnostic workup, 3) Summarize a discharge discussion for a patient with simple febrile seizures 4) Identify a differential diagnosis for pediatric patients presenting with seizure, 5) Define features of status epilepticus, 6) Review an algorithm for the pharmacologic management of status epilepticus, 7) Indicate medication dosing and routes of various benzodiazepine treatments, 8) Obtain a thorough history in an infant patient with seizures to recognize hyponatremia due to improperly prepared formula, 9) Choose the appropriate treatment for a patient with a hyponatremic seizure, 10) Describe the anatomy of a ventriculoperitoneal (VP) shunt, 11) Relate a differential diagnosis of VP shunt malfunction, 12) Compare and contrast the neuroimaging options for a patient with a VP shunt
DOI: https://doi.org/10.21980/J8R928
By the end of this educational session, participants should be able to: 1) discuss indications and contraindications for needle cricothyrotomy in the pediatric population; 2) assemble the equipment needed to complete a needle cricothyrotomy; 3) describe and perform the steps of neonatal and pediatric needle cricothyrotomy; 4) discuss post-procedure ventilation options.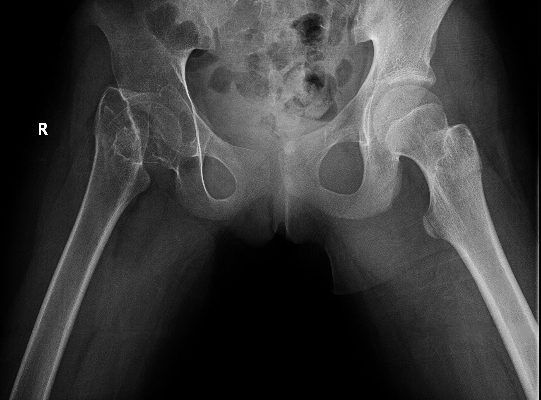 DOI: https://doi.org/10.21980/J8S92K
On her right hip radiograph, the patient was found to have a right femoral neck fracture with superior displacement of the intertrochanteric portion of the right femur. Moreover, the radiograph demonstrated diffuse osteopenia of the right hip and femur from chronic disuse as characterized by the increased radiolucency of the cortical bones compared to the left side.
DOI: https://doi.org/10.21980/J8CS7K
At the end of this simulation, participants will: 1) review options for pain control in pediatric patients, 2) perform a pre-sedation history and physical exam, 3) review the indications and contraindications for pediatric moderate sedation, 4) understand components of consent, and get consent from the patient's parent, 5) list medication options for moderate sedation in a pediatric patient and review their appropriate doses, indications, contraindications, and side effects, 6) discuss management of moderate sedation complications, and 7) review criteria for discharging a patient after sedation. 
Page 1 of 3