Search By Topic
Found 25 Unique Results
Page 1 of 3
DOI: https://doi.org/10.21980/J8735P
The bedside ocular ultrasound (B-scan) was significant for small, hyperechoic signal (white arrow) in the distal aspect of the optic nerve, concerning for embolus in the central retinal artery. Subsequent direct fundoscopic exam was significant for a pale macula with cherry red spot (black arrow), consistent with central retinal artery occlusion (CRAO).
DOI: https://doi.org/10.21980/J81M1G
On physical exam, when the patient was asked to try and look to her right, the right eye failed to move laterally/abduct (blue arrow). Additionally, when asked to look straight ahead, the eye was slightly adducted (red arrow). There was a lack of motion of the right eye in abduction when the patient was asked to look to her right (yellow arrow).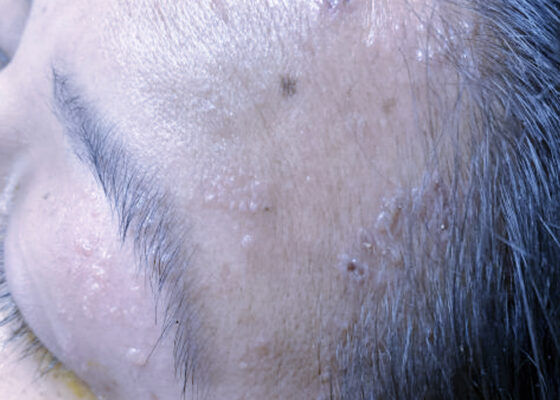 DOI: https://doi.org/10.21980/J8R93N
The presence of soft tissue stranding about the parotid gland suggested an underlying inflammatory or infectious process of the parotid gland. Cellulitis was considered as a possible diagnosis as well, given the presence of soft tissue stranding in the dermis that is adjacent to the parotid gland. Fortunately, no enhancement was seen in local muscles, fascia, or bones to suggest a myositis, fasciitis, or osteomyelitis. By using the anatomy of the patient and understanding the changes that occur on CT when inflammation is present, the appropriate depth and location of infection can be made, allowing for appropriate treatment regimens.
DOI: https://doi.org/10.21980/J86H0M
By the end of this small group didactic, learners will be able to: 1) demonstrate ability to focus on the various components of the slit lamp exam 2) demonstrate understanding of a systematic approach to the eye exam 3) demonstrate appropriate use of the Diaton, iCare, and Tonopen tonometers.
DOI: https://doi.org/10.21980/J88D3B
Point of care ultrasound (POCUS) revealed hyperechoic material in the vitreous consistent with a vitreous hemorrhage. On the ultrasound images, there is visible hyperechoic debris seen floating in the vitreous as the patient moves his eye. Since the vitreous is typically anechoic (black) in color on ultrasound, turning up the gain on the ultrasound machine makes these findings easier to see and often highlights abnormalities, such as this hemorrhage (see annotated still).
DOI: https://doi.org/10.21980/J8KW7G
ABSTRACT: A 39-year-old previously healthy male presented with three days of right eye pressure and one day of binocular diplopia.  He denied history of trauma, headache, or other neurological complaints.  He had normal visual acuity, normal intraocular pressure, intact convergence, and no afferent pupillary defect. His neurologic examination was non-focal except for an inability to adduct the right eye past midline
DOI: https://doi.org/10.21980/J8GS8W
By the end of this session the participant will be able to: 1) Describe basic anatomy of the eye, 2) Build a basic model of the eye, 3) Identify which diseases are associated with which parts of the eye, 4) Identify the pathophysiology behind diseases of the eye, 5) Name correct treatment for each disease.
DOI: https://doi.org/10.21980/J82S85
ABSTRACT: Audience: This corneal foreign body simulator is designed to instruct junior emergency medicine (EM) residents and medical students with an interest in emergency medicine. Introduction: Eye complaints are common in the emergency department (ED), accounting for approximately 2 million ED visits each year.1 Corneal foreign bodies (CFB) account for approximately 7.5% of these presentations, and many EM providers are
DOI: https://doi.org/10.21980/J89K9N
Ocular ultrasound was performed and demonstrated a thin, slightly echogenic strand (blue arrow) extending from the posterior eye into the vitreous humor (yellow arrow) which was hyperkinetic with extraocular motion. These findings are consistent with a posterior vitreous detachment (PVD).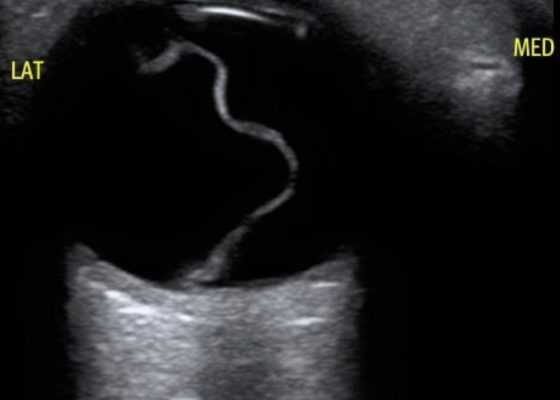 DOI: https://doi.org/10.21980/J8WP8K
Point-of-care ultrasound was performed, demonstratinga free-floating, serpiginous, hyperechoic membrane (R) tethered at the optic nerve (ON) and ora serrata (OS), but detached at the macula (M) lateral to the optic nerve. This is diagnostic for macula-off retinal detachment. It can be differentiated from macula-on retinal detachment, in which the hyperechoic retina would appear attached posteriorly at the location of the macula just lateral to the optic nerve. Ophthalmology was consulted, agreed with the diagnosis of macula-off retinal detachment, and took the patient to the OR for laser photocoagulation.
Page 1 of 3