Search By Topic
Found 19 Unique Results
Page 1 of 2
DOI: https://doi.org/10.21980/J8GS8W
By the end of this session the participant will be able to: 1) Describe basic anatomy of the eye, 2) Build a basic model of the eye, 3) Identify which diseases are associated with which parts of the eye, 4) Identify the pathophysiology behind diseases of the eye, 5) Name correct treatment for each disease.
DOI: https://doi.org/10.21980/J82S85
ABSTRACT: Audience: This corneal foreign body simulator is designed to instruct junior emergency medicine (EM) residents and medical students with an interest in emergency medicine. Introduction: Eye complaints are common in the emergency department (ED), accounting for approximately 2 million ED visits each year.1 Corneal foreign bodies (CFB) account for approximately 7.5% of these presentations, and many EM providers are
DOI: https://doi.org/10.21980/J89K9N
Ocular ultrasound was performed and demonstrated a thin, slightly echogenic strand (blue arrow) extending from the posterior eye into the vitreous humor (yellow arrow) which was hyperkinetic with extraocular motion. These findings are consistent with a posterior vitreous detachment (PVD).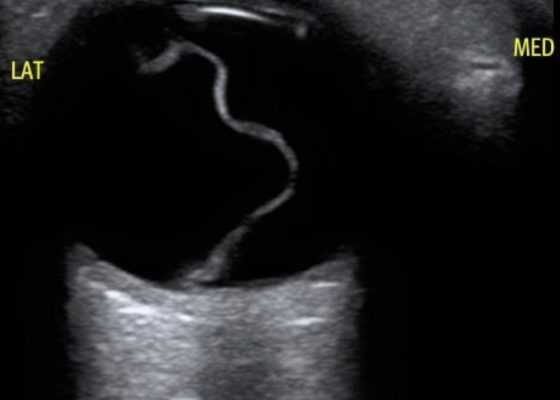 DOI: https://doi.org/10.21980/J8WP8K
Point-of-care ultrasound was performed, demonstratinga free-floating, serpiginous, hyperechoic membrane (R) tethered at the optic nerve (ON) and ora serrata (OS), but detached at the macula (M) lateral to the optic nerve. This is diagnostic for macula-off retinal detachment. It can be differentiated from macula-on retinal detachment, in which the hyperechoic retina would appear attached posteriorly at the location of the macula just lateral to the optic nerve. Ophthalmology was consulted, agreed with the diagnosis of macula-off retinal detachment, and took the patient to the OR for laser photocoagulation.
DOI: https://doi.org/10.21980/J84631
Optic nerve sheath diameter (ONSD) was measured via ultrasound with diameter 5.7mm on left and 6.2mm on right. In order to measure ONSD via optic ultrasound the high-frequency linear array probe (7.5-10-MHz or higher) is utilized in B-mode. The patient is positioned supine and an occlusive dressing, such as Tegaderm, is placed over a closed eyelid with copious conductive gel on top of the dressing. Being careful not to put pressure on the globe, an axial cross-sectional image of the globe is obtained. As demonstrated in the image "annotated left eye ONSD pre-lumbar puncture," there are two main anechoic areas of the globe, the anterior chamber and the vitreous humor. These anechoic structures are separated by the hyperechoic iris, which surfaces the hyper-echoic-lined lens. At the back of the vitreous humor is the retina, which leads posteriorly into the optic nerve. The optic nerve is the hypoechoic structure