Search By Topic
Found 48 Unique Results
Page 1 of 5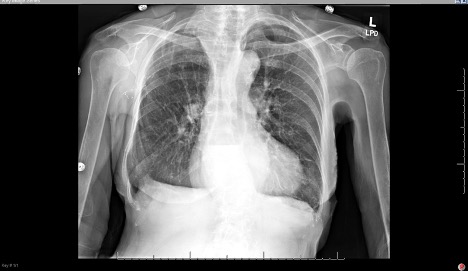 DOI: https://doi.org/10.21980/J8Q639
The plain film radiograph of the chest demonstrated a fluid level (yellow arrow) in the distal esophagus with dilation of the esophagus proximal to that point (blue line). Neither of these findings were present on the previous visit.
DOI: https://doi.org/10.21980/J8HS7T
Frontal chest X-ray showed a large radiolucent area (pink highlighted area) underneath the diaphragm (yellow line) and on top of the liver (blue highlighted area) and spleen (green highlighted area) suggestive of pneumoperitoneum possibly caused by gastrointestinal perforation. This large radiolucent area can also be seen underneath the diaphragm in the lateral view chest X-ray. Computed tomography (CT) was not performed due to his physical exam findings and the significant positive findings on chest X-ray. Surgery was consulted and patient was taken emergently to the operating room.
DOI: https://doi.org/10.21980/J8C92V
Bedside renal ultrasound demonstrated a right renal cyst with echogenic debris consistent with a hemorrhagic cyst (red arrow).  In addition, a computed tomography (CT) scan of the abdomen and pelvis revealed a 4mm non-obstructing right renal stone and bilateral renal cysts. The CT also confirmed the ultrasound finding of a right renal cyst with mild perinephric stranding possibly consistent with a hemorrhagic cyst.
DOI: https://doi.org/10.21980/J87H19
A CT scan was obtained which demonstrated distal small bowel intussusception with focal dilation suggestive of a small bowel obstruction in a pregnant female in her third trimester of pregnancy. The fetus can be seen in the uterus. The yellow arrow identifies the area of small bowel intussusception shown by telescoping intestines with associated bowel wall edema.
DOI: https://doi.org/10.21980/J83S73
A bedside ultrasound of the aorta was performed. The proximal, middle, and distal aorta appeared normal in caliber, as demonstrated by the images; however there seemed to be some enlargement at the b