Visual EM Search By Topic
Found 246 Unique Results
Page 1 of 25
DOI: https://doi.org/10.21980/J8KH1D
The initial ECG obtained upon arrival shows what is commonly referred to as a sine wave pattern. This patient does have a biventricular pacemaker which would ordinarily create a wide QRS complex mimicking an intraventricular conduction delay. However, the QRS complex here is exceptionally wide, in excess of 400 milliseconds (normal: less than 120 milliseconds). As the QRS widens, alongside other deflections present on the ECG, it morphologically mimics a mathematical sine wave.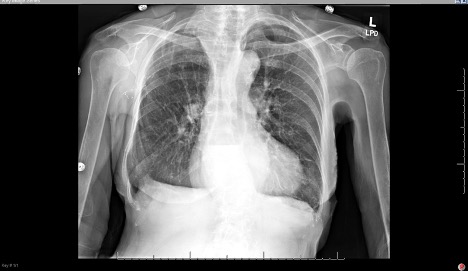 DOI: https://doi.org/10.21980/J8Q639
The plain film radiograph of the chest demonstrated a fluid level (yellow arrow) in the distal esophagus with dilation of the esophagus proximal to that point (blue line). Neither of these findings were present on the previous visit.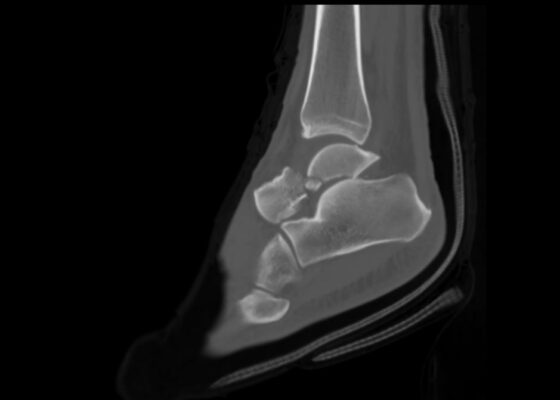 DOI: https://doi.org/10.21980/J8FP75
ABSTRACT: This report demonstrates a case of a severe talar neck fracture. Although rare, talar neck fractures have a high potential for morbidity. Typically caused by a high energy injury, this patient's mechanism of injury was relatively minor, and presentation was not immediately concerning for such a severe fracture. Initial x-rays provided a gross demonstration of the fracture, but a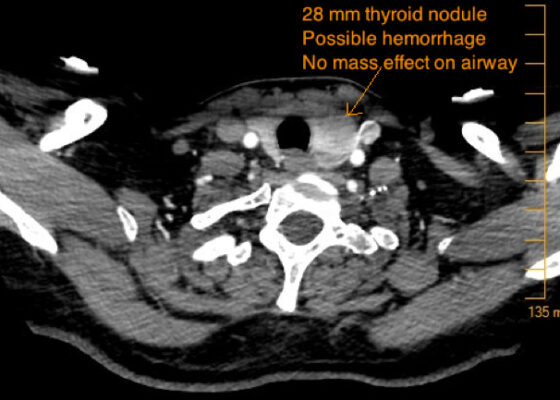 DOI: https://doi.org/10.21980/J8XP8W
Two photographs of patients neck, both showcasing no obvious erythema, bruising, or swelling which is noteworthy because there is potential for airway compromise but there was nothing visible to indicate that on exam. CTA of neck showing thyroid nodule and potential thyroid hemorrhage (outlined in orange) on the left without evidence of airway compromise at the time of CT scan. Official read by attending radiologist states there is a "heterogeneous left thyroid nodule measuring 3 cm. Findings are suggestive of multinodular goiter with possible acute hemorrhage. Adjacent tract of soft tissue stranding in the anterior left neck with mild adjacent fascial thickening. This could represent small amount of hemorrhage or could be inflammatory."
DOI: https://doi.org/10.21980/J8B07B
The associated images demonstrate the transverse, sagittal, and coronal views of a 6.8 cm infrarenal ruptured AAA continuous with a 4 cm right common iliac aneurysm (transverse, sagittal and coronal). Active hemorrhage was seen contained within the aortic wall, and retroperitoneal bleeding can be appreciated with asymmetric enlargement of the left psoas muscle (coronal - red arrow).1 Plaque and calcifications with a residual opacified true lumen is also present (transverse – red star, sagittal – red arrow). Known as the tangential calcium sign, this is a common radiologic finding of AAAs.2