Search By Modality
Found 522 Unique Results
Page 2 of 53
DOI: https://doi.org/10.21980/J8C64K
The patient initially received a venous doppler ultrasound that showed no evidence of a right or left femoropopliteal venous thrombus. Due to the high suspicion of a DVT given the symmetric swelling to the entire limb and acute onset of pain, a CTV was ordered. The transverse view of the CTV showed chronic thrombotic occlusion of the proximal left common iliac vein associated with compression from the right common iliac artery (figure 1, transverse image of CTA), as well as thrombotic occlusion of the left internal iliac vein tributary and corresponding left ascending lumbar vein. Given the previously mentioned clinical context, these features suggested the diagnosis of May-Thurner syndrome.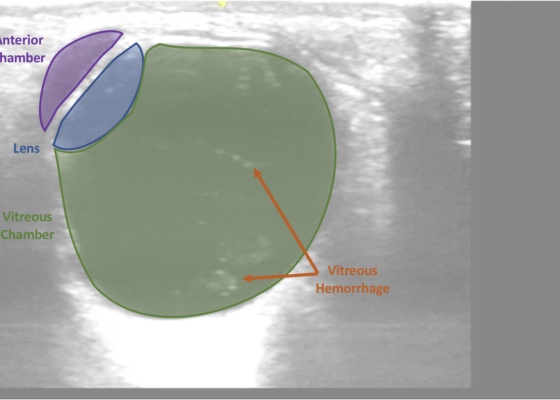 DOI: https://doi.org/10.21980/J88D3B
Point of care ultrasound (POCUS) revealed hyperechoic material in the vitreous consistent with a vitreous hemorrhage. On the ultrasound images, there is visible hyperechoic debris seen floating in the vitreous as the patient moves his eye. Since the vitreous is typically anechoic (black) in color on ultrasound, turning up the gain on the ultrasound machine makes these findings easier to see and often highlights abnormalities, such as this hemorrhage (see annotated still).
DOI: https://doi.org/10.21980/J8C937
The goal of this curriculum is to introduce EM residents to core toxicology concepts and to reinforce toxicology principles through a multimodal approach that leads to increased confidence in the management of poisoned patients on shift.
DOI: https://doi.org/10.21980/J85M0B
By the end of this training session, learners will be able to: 1) locate the abscess, 2) perform needle aspiration, and 3) develop dexterity in maneuvering instruments in the small three-dimensional confines of the oral cavity without causing injury to local structures.
DOI: https://doi.org/10.21980/J81W7H
At the conclusion of these two simulation cases, learners will be able to 1) recognize signs of poor prognosis requiring emergent family notification, 2) take practical steps to contact family using available resources and personnel, 3) establish goals of care through effective family discussion, 4) use a structured approach, such as GRIEV_ING, to deliver bad news to patients' families, and 5) name the advantages of family-witnessed resuscitation.
DOI: https://doi.org/10.21980/J8X35W
After this simulation learners should be able to: 1) develop a differential diagnosis for the hypotonic infant, 2) recognize signs and symptoms of infant botulism, 3) recognize respiratory failure and secure the airway with appropriate rapid sequence intubation (RSI)  medications, 4) initiate definitive treatment of infant botulism by mobilizing resources to obtain antitoxin, 5) continue supportive management and admit the patient to the pediatric intensive care unit (PICU), 6) understand the pathophysiology and epidemiology of infant botulism, 7) develop communication and leadership skills when evaluating and managing critically ill infants. 
DOI: https://doi.org/10.21980/J8SD2M
At the conclusion of the simulation session, learners will be able to: 1) Describe how to evaluate for scene safety in an outdoor space during a thunderstorm, 2) Obtain a relevant focused physical examination of the lightning strike patient, 3) Describe the various manifestations of thermo-electric injury, 4) Discuss the management of the lightning strike patient, including treatment and disposition, 5) Outline the principles of reverse triage for lightning strike patients, and 6) Describe long-term complications of lightning strike injuries.
DOI: https://doi.org/10.21980/J8NP9S
At the end of this oral board session, examinees will: 1) demonstrate ability to obtain a complete medical history including detailed cardiac history, 2) demonstrate the ability to perform a detailed physical examination in a patient with cardiac complaints, 3) investigate the broad differential diagnoses which include acute coronary syndrome (ACS), electrolyte imbalances, pulmonary embolism, cerebrovascular accident, aortic dissection and arrhythmias, 4) obtain and interpret the cardiac monitor rhythm strip to identify complete heart block, 5) list the appropriate laboratory and imaging studies to differentiate arrhythmia from other diagnoses (complete blood count, comprehensive metabolic panel, magnesium level, EKG, troponin level, chest radiograph), 6) identify a patient with complete heart block and manage appropriately (administer IV atropine, attempt transcutaneous pacing, place a transvenous pacemaker, emergent consultation with interventional cardiology), 7) provide appropriate disposition to intensive care after consultation with interventional cardiologist.
DOI: https://doi.org/10.21980/J82W7T
A transabdominal point-of-care ultrasound (POCUS) was initiated to determine whether an abnormality to the pregnancy could be identified. Curvilinear probe was used. Our transabdominal POCUS, in the transverse plane, showed a heterogenous mass with multiple anechoic areas in the uterus. The white arrow on the ultrasound identifies these findings. The classic "snowstorm" appearance was concerning for molar pregnancy.
DOI: https://doi.org/10.21980/J8Z356
Physical exam revealed a comfortable-appearing male patient with tachycardia and a regular cardiac rhythm. The genitourinary exam indicated significant erythema and fluctuance of the bilateral lower buttocks with extension to the perineum. Black eschar and ecchymosis were also noted at the perineum. There was significant tenderness to palpation that extended beyond the borders of erythema. There was no palpable crepitus on initial examination. Physical exam was otherwise unremarkable.
Page 2 of 53